This foam groove machine is low cost and practical solutions for foam package line.For making foam packages,people use another totally different machine -- foam shape forming machine with metal mold which is costly for the forming machine and also the mold.But the cost for our foam groove package machine is much affordable.
This foam groove machine can cut grooves on foam with multiple pre-shaped wires which is pre-bended rigid wire as you desire the wire shape to be,just any shape you want the foam to be cut,The bended shape can be linear,curve,square,ripple or any other shapes you want it to be.The cutting wire and its tools can travel up and down,horizontally on X and Y axis ,and it can also rotate.We can also design the tools for foam object to move horizontally instead of hot wire movement.it is fully custom machine.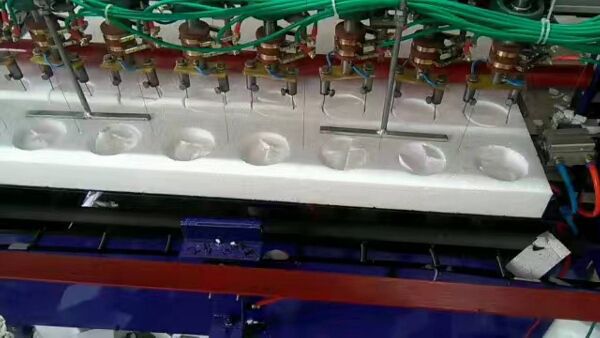 We can see some foam packages in our daily life like the foam package for bottles,cups,containers,tools etc which is made by this foam groove machine.The foam package cutter can multiplly groove on eps foam block and then seperately cut each groove.It will be finished product with our machine.
We need custom make this foam groove machine,customer need tell us your demand for your foam package.We can make the machine by PLC or CNC control.It is with good volume capacity and easy to operate.
Technical Specification
Automatic level

Full automatic / Semi-automatic / CNC

Rotational wire qty option

1,2,4,6,8 pcs

For round shape

Fixed module cut

2,4,6,8 pcs

For square shape

Cutting size

800*1200*100 mm or customized

Adjustable Cutting depth

100 mm or customized

Temperature range

50℃ – 700℃

Travel control

Photoelectric sensor

Weight range

60kg – 300 kg

Eps foam column hollow,round hollow,square,rectangle,circular hollow,abnormal shape etc.

Custom making

available
Youtube Video