We custom eps slicing machine with extruded aluminium materials frame,The hot wires can be horizontally,vertically placed for your horizontal,vertical and down cutting demand.Extruded aluminium frame are light weight and fashionable.
1) Machine frame takes galvanized square steel and/or aluminium extrusions materials only depending on the machine size.
2) Motor takes variable frequency,it can work on 0-2m/min speed.
3) Hot wire temperature can be adjusted in the eps slicing machine.
4) Hot wire on/off switch is independently installed for horizontal,vertical and down cutting wires.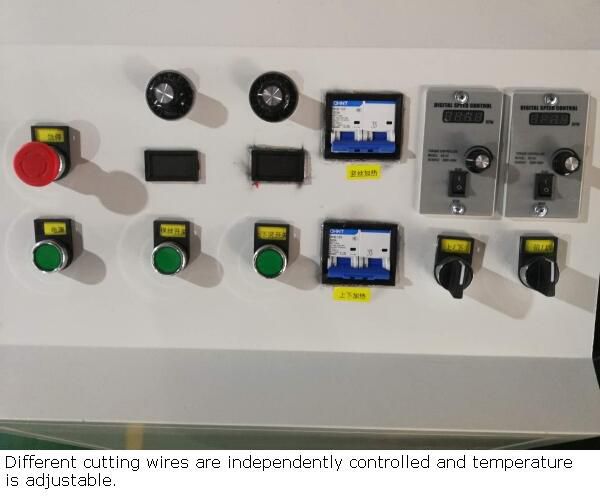 The market demand for linear eps styrofoam block/sheet/slab/board is various,some demand big eps sheets for insulation which need horizontal,vertical and down cutting functions,some demand eps strips for decoration from thin eps sheet which need slicing machine for horizontal cutting only.some demand cubic eps block which need down cutting function only.We follow the market demand and develop various models.Some machine models are with horizontal cutting only,some models are with three direction cuttings.And we can customize different eps slicing machine.
Application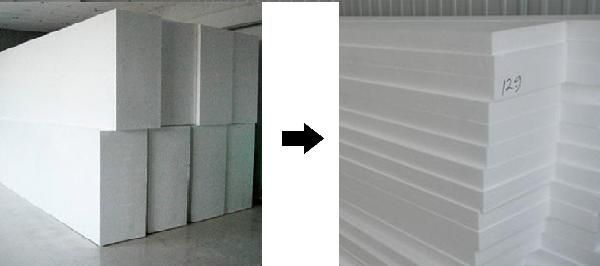 Specification
Custom install horizontal and/or vertical and/or down cutting wires for eps styrofoam.
Youtube Video