The design of automatic linear foam coating machine is with double guide rails on the working table which can be used with two small size linear foam mouldings,it can be also used with one big size linear foam moulding on the two rails for more power in driving the mouldings.
The sharp gears on the guide rail can transport the foam mouldings sound thru the tooling in the middle of the machine.Our max coating size is up to 1.2m width and 1m height.There is tooling needed in working for foam shapes.The tooling is like a mud box.The tooling is arclyc materials which is pre-cast for your foam mouldings shapes.There is mortar in the mud box,the mortar can be coated on the surface of linear foam mouldings while it go thru the mud box.The gap between the foam moulding and tooling determines the thickness of coated mortar on foam mouldings.
We update our foam coater machine as below picture.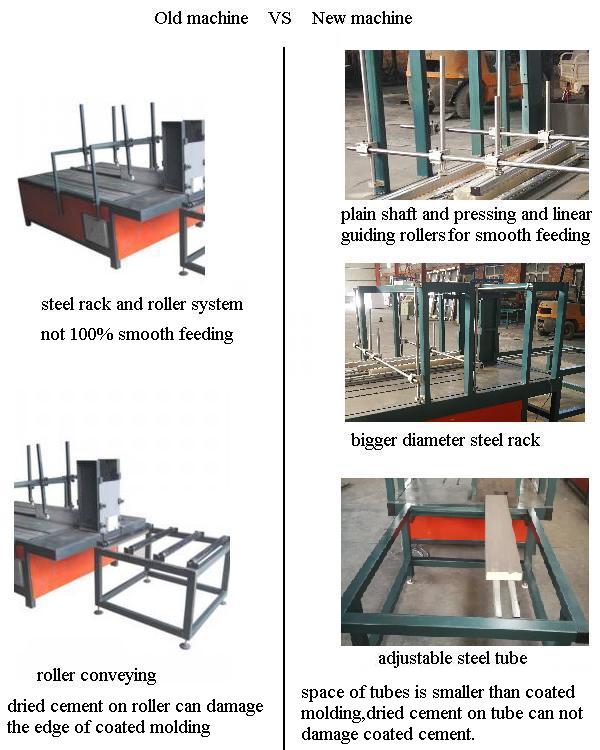 The foam coating machine is controlled by PLC control and it is easy to operate.The working speed is adjustable with the motion of stepper motor.You can adjust speed with the demand of your work.The max working speed is 20m per minutes.
The design of the whole coating machine is split rolling rack for conveying the coated foam mouldings.The reason is we need think more in all application of designing the machine.It is easy to move and transport with light weight and split type.
The design of the tensioning rack on the guide rails are good for the automatic feeding of the linear foam mouldings.The tensioning width is also adjustabe for different applications.
Pls choose the good coating machine like ours in the market before starting making your foam mouldings.